You have to know the reasons behind an online buyer, before there was a lot of fear behind E-Commerce and logical because it was something new and we tend to fear the new. However, little by little, more and more online solutions have been added and with the pandemic, E-Commerce has become the most effective solution for almost all physical stores. In addition to this, we have had to do many online transactions not only to buy but also to pay services, taxes or procedures of various kinds electronically. All this thread of events has succeeded in injecting confidence and more skill into those who were not previously using the ease of technology to get the products and services they needed, including this to experiment a little more to make international purchases.
That is why we have brought this Test to find out whether or not you have already developed the mind of an ONLINE Buyer:
1. Visits Web Pages (E-Commerce):
) Every day without fail.
) 1 or 2 times a week
) Rarely
2. To browse the E-commerce pages you use:
) Cell phone
)Laptop
) Computer or PC
3. What time do you prefer to buy online:
) Morning
) Afternoon
) Night
4. How often do you compare prices from the physical store where you find online stores?
) Always
) From time to time
) Rarely
5. Do you have lists and profiles in online stores?:
) Shop I see, shop I profile and list
) I don't like to make profiles or lists
) I only create a profile when I want to create lists, otherwise no.
6. The online stores in which you have bought you know them by:
) Stores you find browsing online
) Recommendation of friends
) I only buy from physical stores that also have E-commerce
7. How do you prefer to make purchases:
) Wholesale
) retail
) I only buy when there are offers in the physical store that direct me to the online store.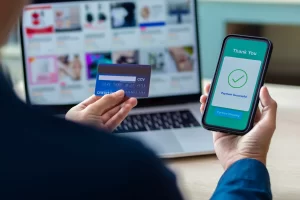 Results:
If you had majority A
Indeed, your mind is 100% the mind of an ONLINE buyer. You are probably doing an average of 19 transactions a year. You consider each product purchased an extension of your essence and every time a box arrives with your order, you feel it as a huge reward.
If you had majority B
You have 60% of the mind of an online buyer. You still need to have a little more confidence in E-Commerce and technologies that make a variety of unique products easier and more accessible. Start by searching your browser for something that you consider a staple product and always try to buy it online. You will see how little by little you are taking the rhythm.
If you had majority C
You are not such a fan of online shopping. Has it ever happened to you that from your cell phone you chose a product and after having it in your cart you went to the PC and it was gone? Do not be scared, these types of problems have been optimized more and more to the point that technology already identifies your path through the entire E-commerce page so that when you change devices, your products are still there. Give E-commerce another chance, the future is today.