BASC – Business Alliance for Secure Commerce, is an international business alliance that promotes secure trade in cooperation with governments and international organizations. It is constituted as a non-profit organization, with the name "World BASC Organization" under the laws of the state of Delaware, United States of America.
AIRBOX is committed to the correct and safe management of courier shipments and international trade in general, annually complying with the current regulations in the execution of our service under the BASC and OEA audits that give us a guarantee mark before our clients and prestige in the market.
In the same way, we are committed to acting with honesty and professional ethics in all areas of the company and in all national and international commercial movements. Bribery and corruption are contrary to our values ​​and can impose penalties on our employees and company.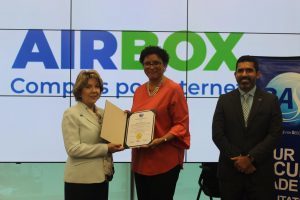 Certification Reception 2019